---
About This Web Site
Our Web site has been organized for easy navigation. The main menu options appear at all times as a list of buttons in the window at left. Choosing one of these options will display the requested topic in this window. Some topics have sub-menus of their own which appear at the top and bottom of the material presented in this window. Some pages are associated with more than one category and can be accessed from any of several links.

Listed below is a Table of Contents for this Web site, with an overview of each of the main sections and the topics they contain:
Section

Topics

---

Welcome

Welcome, Pastor's Page, About Us, About this Web Site, Updates

Services

Worship Services, Special Services, Community Service

Classes

Adult and Youth Classes

Location

Maps and Directions

Beliefs

Beliefs, Sacraments, Scriptures, Zion, Stewardship, Priesthood

Scriptures
Link to an online Inspired Version, Book of Mormon and Doctrine and Covenants

Calendar

Priesthood Schedule, Local Events, and World Church Events

Leaders

Congregational Leadership and Local Priesthood

Contact Us

Addresses, Phones, E-Mail, Christian Links, D/FW Links
---
This Web site uses Frames to display information in static and scrolling windows. If your Web browser has problems displaying these pages properly, you might wish to acquire a Web browser that supports HTML 3.x features, such as:
| | | |
| --- | --- | --- |
| Internet Explorer | or | Netscape Navigator |
---
Internet Awards

Golden Banner Award
"In Recognition of Responsible Web Page Content"


Orchid Award for Excellence
"In recognition of an excellent page!"


Darkstar Supreme Award
"Well Done!"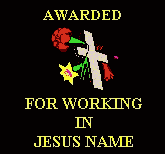 Awarded by Christian Life
"In Recognition of honoring and worshiping our Lord Jesus Christ"
---
For more information about this Web site, contact the WebMaster.