Community Service | Outreach Int'l | Network Ministries
---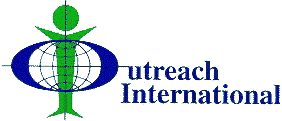 Mission Statement:
Outreach International is a human-development agency striving to alleviate the injustice of hunger, poverty, and disease in the world.
Outreach International supports and participates in the creation and replication of comprehensive programs for human development among the poor. Programs attempt to enhance the quality of human existence and to affirm the dignity and worth of all persons.
Outreach International sustains comprehensive development efforts through educational programs which encourage caring relationships, cross-cultural understandings, and wise use of resources. These programs are designed to heighten awareness of persons about world hunger and global issues.
Outreach International mobilizes diverse resources to facilitate the human development process. Volunteer, financial, professional and technical resources, appropriate for the local environment, are coordinated in this effort.
Outreach International involves local people as partners in the planning and implementation of human development programs designed to improve health, education, livelihood and community organization. Through this process of helping people help themselves, indigenous leadership and organization is strengthened, thereby enabling self-sufficiency.